#EndSARS: Nigerians raise over N3million to buy prosthetic leg for disabled lady who joined protest
A disabled Nigerian lady, Jane Obiene has gotten the attention of Nigerians on social media after she joined the #EndSARS protest yesterday despite her condition.
Jane who has been unemployed since 2013 partly because of her disability, joined thousands of Nigerians to march for an end to police brutality in the country.
A popular Nigerian doctor on Twitter, Aproko Doctor, created a donate link for Jane with a 30 day period in mind for N500k, in other for her to get prosthetic legs.
Nigerians have now raised over N3.7million and counting for her in less than 2 hours.
See below…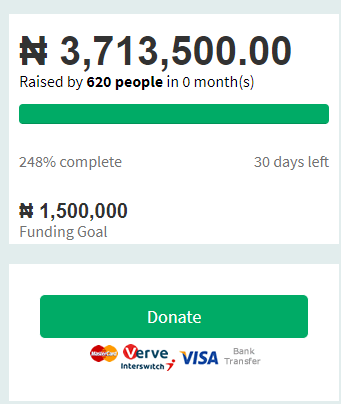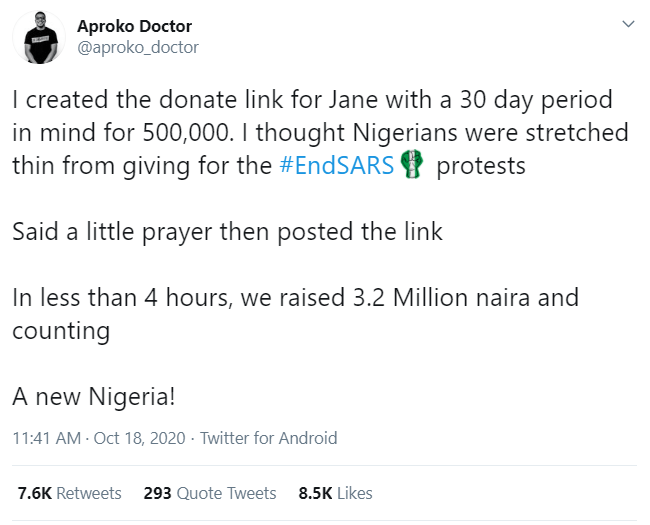 #LekkiMassacre: "It was a soldier that shot me at Lekki" – Eye witness and survivor shares his sad experience
One of the victims of the Lekki shooting identified as Anthony Ogbe has narrated his sad experience after he was shot that night.
The survivor who is receiving free treatment at Grandville Medical and Laser Centre, Lekki, said several hospitals rejected him before he ended up at Grandville.
He said;
"It was a soldier that shot me at Lekki. I was rejected from different hospitals before I got admitted here and my life was saved," he said.
"They didn't collect money to treat me; neither do they know my people.
"I was taken to the theatre so that they could bring the blood that is in my chest out, and that is what is passing through this pipe.
"I thought I had died, because my blood was just gushing out like pump. I never knew I would still be alive. We thank God for this hospital. Glory be to God."
Escaped prisoners, return to prison in Edo State
A total of 25 inmates, out of the 1,900 inmates, who escaped from Oko and Sapele Road Correctional Center popularly called White House, Benin last Monday when hoodlums masquerading as #EndSARS protesters stormed the two prisons, have voluntarily surrendered themselves to the authorities.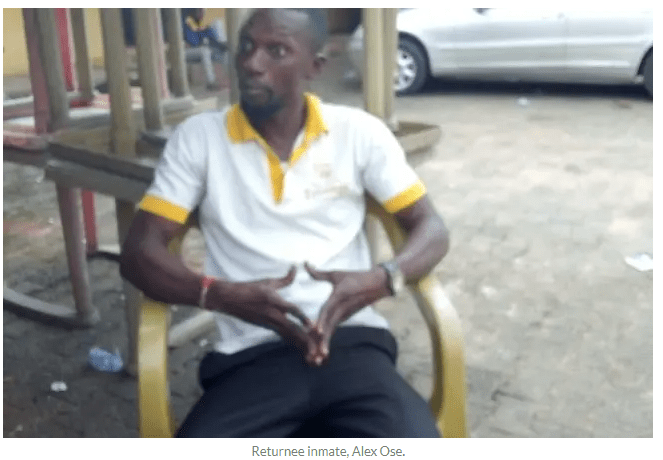 Nigerian Tribune reports that one of the inmates, who gave his name as Alex Ose, 40, a taxi driver, from Esan, Edo State said that he has been awaiting trial since 2014 when he was arrested for armed robbery in the Edo State capital of Benin.
The father-of-four said that he decided to heed the call of Edo State Governor Godwin Obaseki and surrender himself because he is innocent of the charges against him and was supremely sure that he will be vindicated by the court.
A source at Sapele Road Correctional Centre disclosed that two out of the 25 inmates who returned were from Oko Medium Correctional Centre along Airport Road, Benin, assuring that they will be returned to Oko when the situation returns to normal.
According to him, the Department of State Security (DSS), the police and officials of the Nigerian Correctional Services (NCS) will soon commence a massive manhunt for the runaway inmates once Governor Obaseki one week grace for them to return expires.
He reminded that those who escaped from lawful prison custody risked being sentenced for extra seven years if caught while those who willingly surrendered themselves will be shown mercy as promised by Governor Obaseki.
Tinubu reveals sponsors of attacks on his assets in Lagos
Former Lagos State Governor, Bola Tinubu, has revealed those who masterminded the attacks on some of his assets.
He made the revelation in a statement on Sunday titled 'The End SARS protests; fundamental lesson in democratic governance'.
Tinubu declared that irate mob that carried out the arson were sponsored by his political opponents.
The national leader of the All Progressive Congress (APC) regretted that he was specifically targeted.
The Jagaban admitted that he has major stakes in TV Continental and The Nation.
The media houses were destroyed last week.
He said: "I am, indeed, a promoter and financial investor in the Nation newspaper and TVC. It was widely known and circulated through social media that certain malevolent elements were going to take advantage of the situation to attack the Nation newspaper facilities and TVC in Lagos.
"The attackers came. Both facilities were significantly damaged. Although equipped with prior notice of the imminent trespass, I did not call any one to seek or request for the army or police to deploy let alone attack, kill, or injure those who razed and vandalized these properties. I did not want any bloodshed.
"These elements, mostly hirelings of my political opponents, wreaked their havoc and destroyed those buildings and facilities and I thank God that the employees of these two media institutions managed to escape largely unharmed."
Tinubu, however, noted that while buildings and damaged equipment can be rebuilt or replaced, there is no adequate substitute for the loss of even a single human life.